For Freshperson
~An Encouragement of AIC~
Congratulations to our new students!

The AI and Advanced Programming Consortium (AIC) is a research center within the Keio Global Research Institute (KGRI) that provides an environment for students to study artificial intelligence, machine learning, and advanced programming on their own initiative.

Its motto is to be an AI programming business organization of students, by students, for students.
Students are also involved in teaching lectures and planning and running contests.

All lectures and contests are free of charge.
AIC encourages AI and programming activities by its students. Our aim is to create a new pillar of AI and IT human resource development in the future.
This initiative of AIC has been endorsed by many companies, and their sponsorship helps to sustain AIC's activities (click here for a list of corporate members).

Official LINE ↓

Services offered

Lectures
The lectures handle topics suitable for those new to AI and programming, such as basic knowledge of AI in general, programming using python, which is also used in machine learning, and deep learning using python.
Whether you are a beginner who has never touched AI or programming before, or you have some programming experience, you can choose a course that suits your level and interests.
Lecture formats include face-to-face, online, and on-demand. Face-to-face and online classes also start at 6:15 p.m., so you can take classes at a time that does not conflict with your class schedule.
Teachers are students just like you, so you can feel free to ask any questions you may have. We also issue a certificate of completion to those who have attended a certain number of classes.

Here is a list of the lectures for the spring semester of 2022.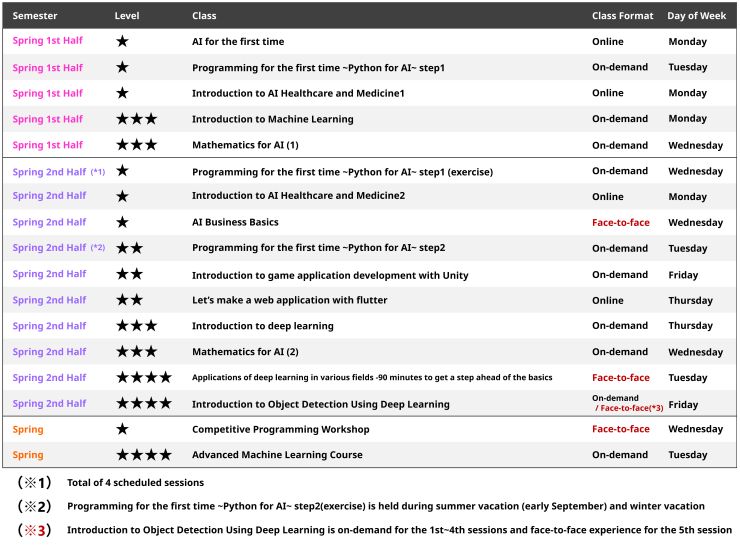 You can attend all of these workshops free of charge.
You can see about the lecture for the fall semester of 2023 here (sorry, the page is written in Japanese).

Contests
The contest is a project in which participants challenge each other in friendly competition to solve AI and programming themed problems while learning about the technologies used to solve the problems.
AIC holds contests in collaboration with companies.
Since actual data from companies can be used, this is a valuable opportunity to learn how to use practical technology.
For more information, please click here (sorry, the page is written in Japanese).
Finally
For more information on each service, please click here (sorry, the page is written in Japanese).
We look forward to your participation.